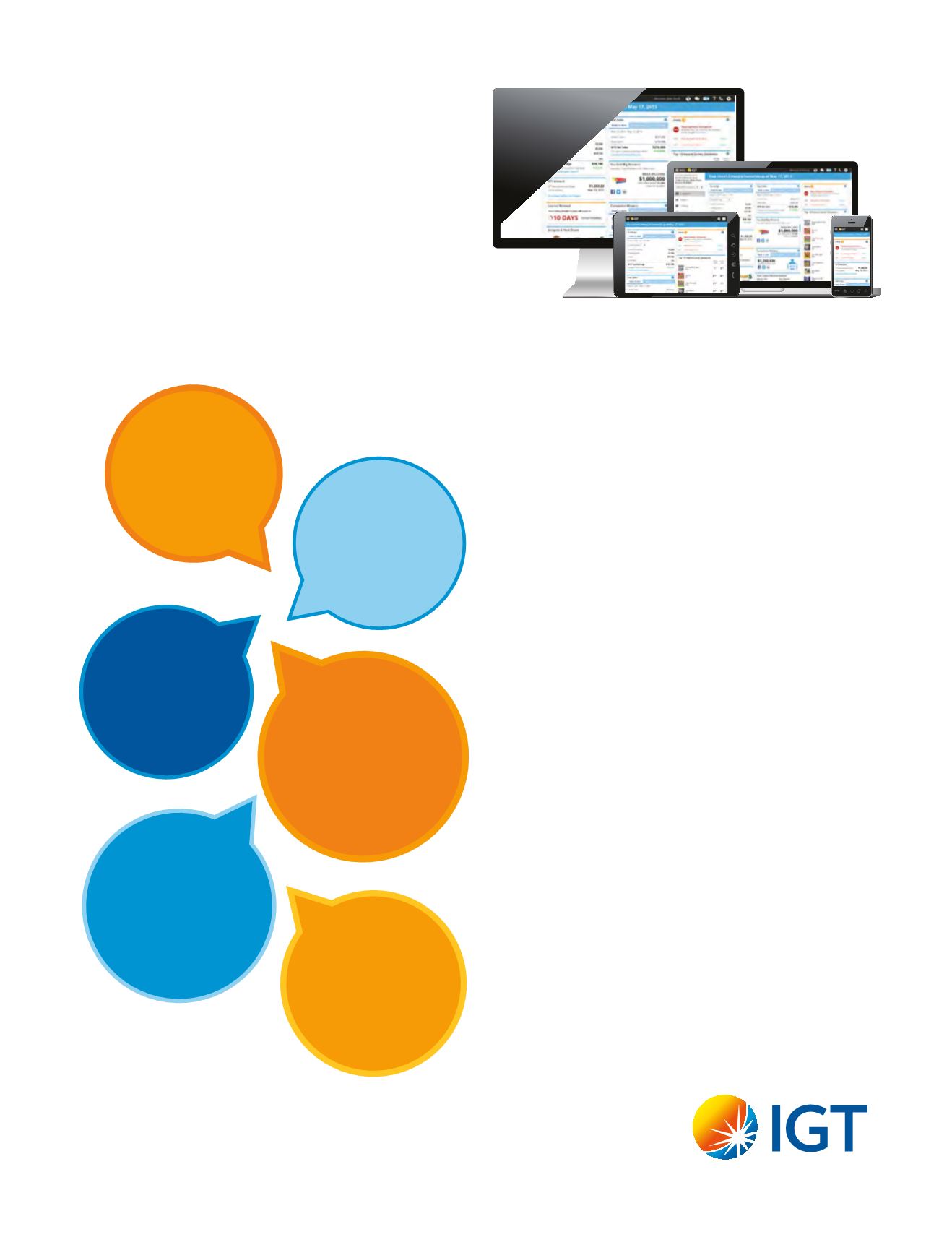 42
// PUBLIC GAMING INTERNATIONAL // July/August 2016
Retailer Tested, Retailer Approved
To create this innovative website, IGT gathered insights from sales
staffs, sales and marketing management, operations staffs, and
training resources from lotteries around the world – and perhaps
most importantly, from retailers themselves. In multiple usability
studies and focus groups with independent retailers and corporate
account users, Aurora Retailer Wizard was given "an unqualified
thumbs up," lauded by all retailers in attendance for being "a true
diagnostic tool to pinpoint where and how to boost lottery ticket
sales" and "a real and significant improvement over the tools …
retailers currently have." Retailers were quick to see the benefits
Aurora Retailer Wizard brings them, as the following remarks from
participants testify.
i
Because the needs of a local "mom and pop" market are different
from those of a corporate account, home pages and secondary
dashboards are customized to each type of user – independent
retailers, chain subordinate retailers, chain headquarters users, and
lottery staff – and to the user's role in his or her organization. Plus,
Aurora Retailer Wizard allows for even greater personalization by
enabling users to "drag and drop" widgets easily onto their own
dashboards and to position them so they are readily available.
Single Retailer View
Aurora Retailer Wizard fully embodies the smart, open, agile
solutions IGT has developed to drive lottery profitability and
growth. Since IGT's Aurora technology enables extending back-
end services across multiple applications, Aurora Retailer Wizard,
Aurora Retailer Manager, Aurora Performance Intel, and Aurora
Instant Processing System will all share the same service and the
same information to provide a single retailer view and make sure
a lottery presents a unified front. Of course, as part of the Aurora
suite of open, innovative products, Retailer Wizard easily integrates
with other IGT and third-party applications as well, empowering
retailers to reach for new heights with more control and greater
access to data – whenever, wherever, and however they choose.
"We have
multiple locations
so it makes my life a lot
easier, by managing it all
from one screen, one
location."
"I'm going to use it
on a daily basis."
"Whatever you need,
it's all in one place,
whatever you're
looking for."
"The new information
will help me boost
my sales."
"It's more detailed
in terms of how it's broken
down, easier for you to access
it…you don't have to go to
the machine, print out every
single report, sit down
and do all the
calculations."
"There are a lot of things
I saw I never thought
much about, now I'm
going to look into them."
Retailer Feedback
For more information on Aurora, IGT's new lottery technology
solution, visit
www.IGT.com.
*All quotes: Reilly Group, Retailer Research report, November 2015.