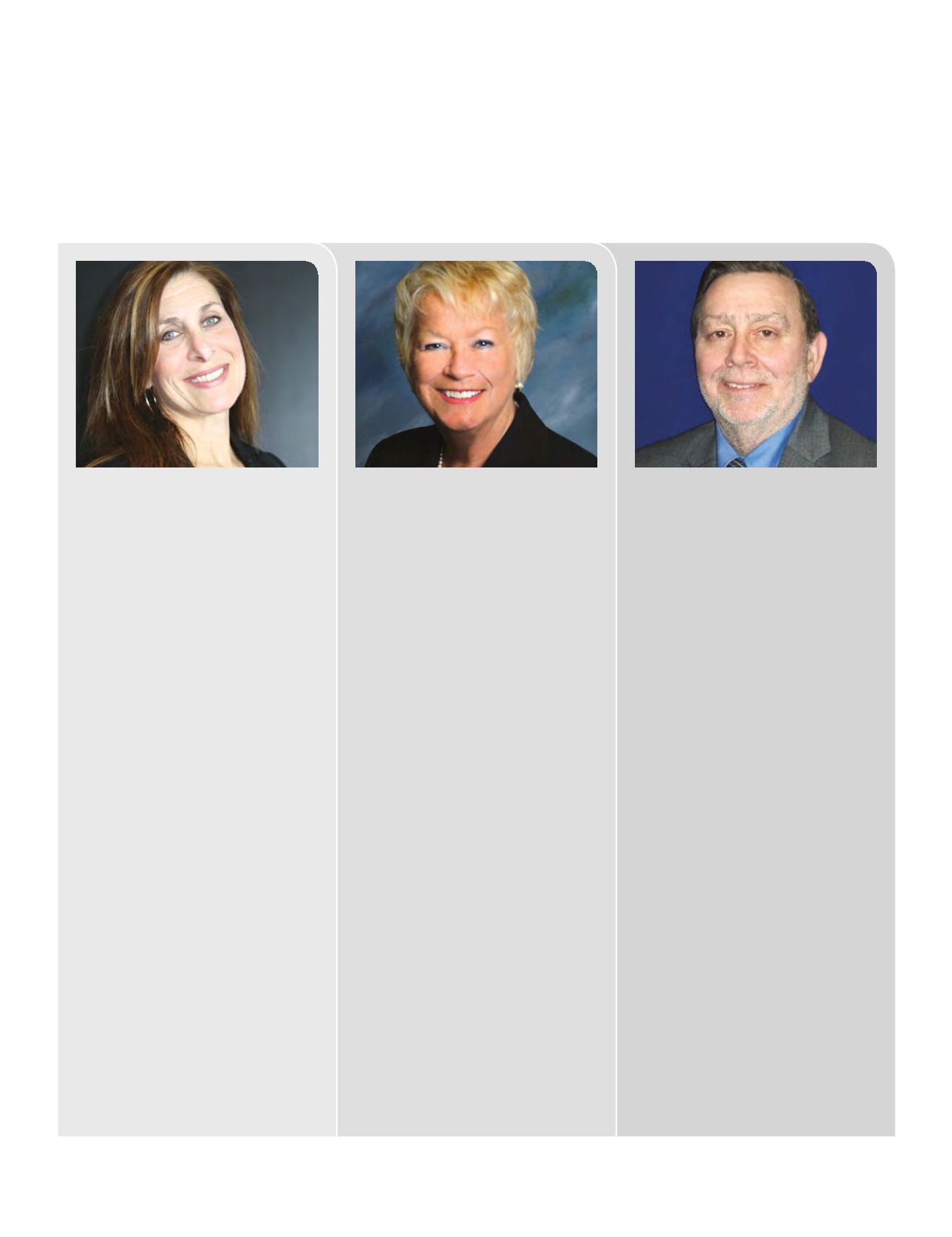 14
// PUBLIC GAMING INTERNATIONAL // July/August 2016
2016 RECIPIENTS
Major Peter J. O'Connell
Lottery Industry
Lifetime Achievement Award
TRACEY COHEN
Interim Executive Director,
D.C. Lottery and Charitable
Games Control Board
In April 2015, Tracey Cohen was ap-
pointed as the Interim Executive Direc-
tor of the D.C. Lottery. Rated among
the top ten lotteries in the nation, Trac-
ey oversees a $220 million enterprise.
The post of Interim Executive Director,
marked the latest achievement in a dec-
orated lottery career that has spanned
over 15 years. Prior to this appointment,
she served as the agency's Chief Operat-
ing Officer beginning in 2011. In that
first year, the agency saw record-break-
ing instant ticket sales, launched its
first-ever million-dollar DC Scratcher,
and welcomed Mega Millions—the
nation's biggest jackpot game—to its
product line, contributing another $1.2
million in revenue. Other achievements
include launching the Lucky Lottery
Mobile and the opening of the Official
DC Lottery Store at Union Station, the
first of its kind in a major transporta-
tion and retail hub within the United
CAROLE HEDINGER
Executive Director,
New Jersey Lottery
Carole Hedinger began her lottery ca-
reer as deputy director of the New Jersey
Lottery in 1994.  She became acting di-
rector in 2003, serving for a year before
moving to the position of chief clerk
at the Ocean County Surrogate Court
in 2004.  Ms. Hedinger served in that
capacity for the next six years, where
she was responsible for overseeing the
court's guardianship and estate account-
ing efforts, creating and implementing a
comprehensive array of tracking systems
and audit procedures to ensure the in-
tegrity of the court's operations.  
Ms. Hedinger was appointed by Gov-
ernor Chris Christie to lead the New
Jersey Lottery in June of 2010.  She
brought three decades of experience as
a Certified Public Accountant to her
new role as Executive Director at New
Jersey Lottery. Charged with shaping
the future of the Lottery, in FY 2016
the New Jersey Lottery topped $3.2 bil-
lion (unaudited) in sales, and more than
VERNON A. KIRK
Director, Delaware State Lottery
Vernon Kirk joined the start-up
staff of the Delaware State Lottery
in 1975 and subsequently served in
a variety of marketing, financial and
administrative positions. He was ap-
pointed Director of the Lottery in
October 2011. Kirk has received the
Delaware Award for Excellence in
State Service from Delaware's current
Governor, Jack Markell, and has been
cited by both chambers of the Dela-
ware General Assembly for his leader-
ship during the development and suc-
cessful implementations of the State's
enterprises in sports betting and table
games at Delaware's three racinos.
During Kirk's tenure to date as Di-
rector, the Lottery has continued its
long standing tradition of innovation.
Delaware's sports betting product was
expanded from the racinos to include
brick and mortar retailers, which were
licensed and trained in time to be-
gin selling for the 2012 pro-football
Continued on page 62
Continued on page 62
Continued on page 62