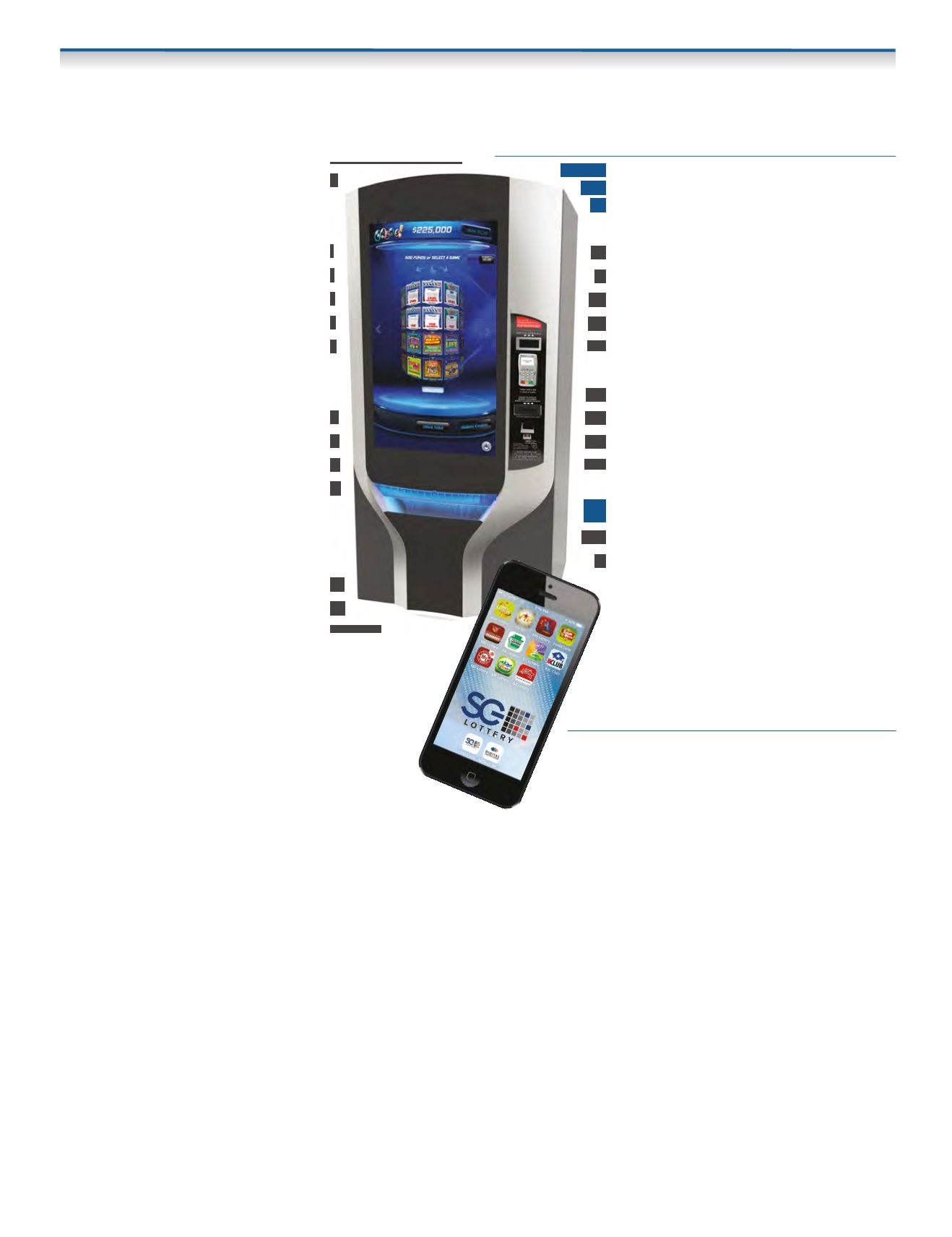 36
// PUBLIC GAMING INTERNATIONAL // July/August 2016
XX
// BLIC GAMING INTERNATIONAL // July/August 2016
The company has delivered more than 600 digital programs and
promotions to more than 45 lotteries worldwide—more than all other
major lottery suppliers combined. One in four U.S. lotteries uses amobile
app by Scientific Games. Apps provide a convenient way for players to
scan and validate games, receive promotions and
even buy products where regulations allow.
Mobile is teeming with interactive opportunities.
Scientific Games'apps provide a variety of loyalty,
bonusing and second-chance options. Engaging
players on mobile, like many other consumer
brands and products are doing, is proving to be a
natural way to extend the lottery experience.
Convergence within the lottery and gaming
industry has played a role in creating and
adopting new technology. As a result, the
possibilities of mobile and systems technology in
lottery are greater than ever.
Merging Innovation
Since bringing Bally andWMS under the Scientific
Games umbrella, the company has leveraged
products and services across the global lottery and
gamingmarkets. Scientific Games serves more than 1,500 customers
around the world, including more than 150 lotteries. It is the leader
in gaming systems. With the combined innovation, knowledge
and systems technology between the lottery, gaming and
interactive divisions, possibilities abound.
"Scientific Games is leveraging strengths across all of our divisions
to accelerate innovation,"McHugh said."Advancing our technology lets
us bring more content, value and products to our customers."
For example, the company has adapted the geo-fencing technology
used in casinos for lottery retail locations. Players can purchase credits on
a lottery retail self-service terminal, scan a voucher and play games on
their mobile phones within designated locations. Such advances make
lottery more accessible and convenient than ever.
Convergence of lottery and gaming has already taken hold outside the
U.S. New modular system designs allow lotteries to securely integrate
traditional brick-and-mortar retail and internet mobile platforms.
Scientific Games' new international systems expand the possibilities for
players and lotteries. For example, the player account manager and
universal wallet features let players engage and manage their money
across gaming verticals.
Scienti c Games' technology allows players to purchase
credits from a lottery self-service terminal, scan a
voucher and play games on their mobile phones.
"This is a great example of tying the retail and online
ecosystems together," McHugh added. "These
technology innovations empower lotteries to know
their consumers much more holistically across their
entire business."
The changes within the industry came as a response to
the evolving needs of lotteries and consumers.
However, innovation also involves understanding
retailers'needs.
Building Retailer Relationships
Scientific Games' research and development of new
solutions is guided by time spent with retailers and
getting to know their needs. By conducting
Retailer Roundtable meetings and its retail
development program,
SalesMaker
TM
, the company
better understands retailer challenges. Retailers learn
how lottery can be a profitable contribution to their
bottom line, not just a competitive necessity.
Mobile apps o er player convenience like scanning and
validating games, participating in second-chance
games and promotions, and even purchasing games
(where allowed).
"We have significant commitment to engaging with consumers and
lottery retail partners to understand what's important to them, what
solutions they desire, and what trends are happening in their business,"
McHugh said.
Retailer Roundtable meetings bring together retail representatives and
Scientific Games' innovators in face-to-face discussions regularly.
Together, they look at some of the challenges retailers face as well as the
company's solutions to address specific friction points andmake selling
lottery products more convenient.
The
SalesMaker
program trains retailers in best practices for
merchandising and growing lottery as a product category. The