ESPN
State-by-state
sports
betting
bill
tracker
After New Jersey's Supreme Court victory, any state that wishes can legalize sports betting.
At the same time various state lawmakers are considering sports betting legislation, Congress is too. Senators Chuck Schumer, D-N.Y., and Orrin Hatch, R-Utah, have both made official statements in support of new laws to address sports betting. On Sept. 27, the House Judiciary Committee held a formal hearing on the topic.
The dual track of proposals -- state and federal -- have increased in frequency since the start of 2017.
To measure the change in the landscape, we ranked all 50 states and the District of Columbia in terms of how likely it is for each jurisdiction offer full scale legal sports betting. A brief synopsis for the active states is included, with updates to follow.
Last updated on Oct. 23, 2018.
---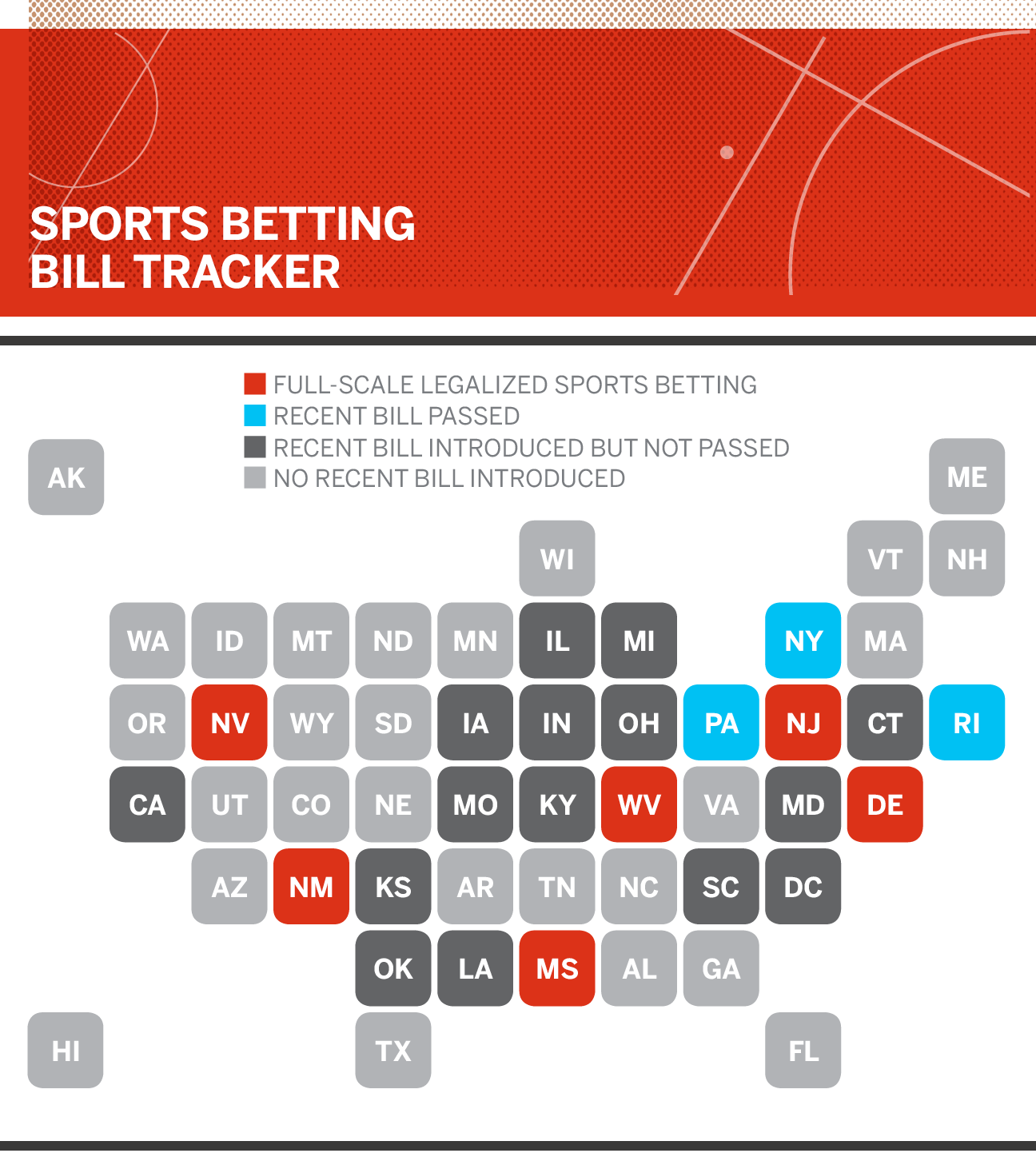 Already there
1. Nevada
No longer the only state to permit a wide variety of legal sports betting, Nevada is a mature market that has existed for decades. Many states might look to Nevada for the best practices in the regulation of sports betting. Nevada could even be designated as a national hub of sorts, via agreements with other states on topics such as oversight, liquidity, line monitoring and risk management.
2. Delaware
On June 5, 2018, Delaware moved to offer single-game betting on a number of different sports at three casinos in the state. Expanded sports wagering options could take place at additional locations or online. Delaware's authorization of what Gov. John Carney described as "a full-scale sports gaming operation" happened less than a month after the Supreme Court ruled that the federal law restricting single-game betting to Nevada was unconstitutional.
3. New Jersey
On June 11, 2018, Gov. Phil Murphy signed the sports betting bill that had passed the previous week. A William Hill sportsbook at Monmouth Park took the first bets on Thursday, June 14 at 10:30 a.m. ET. Gov. Murphy was the first customer in line. The Borgata in Atlantic City booked sports bets 30 minutes later. Other sportsbooks in New Jersey opened soon thereafter. For example, FanDuel's first sportsbook at the Meadowlands opened its doors on July 14.
4. Mississippi
Two casinos owned by MGM Resorts booked their first sports bets in Mississippi on Aug. 1, 2018. Mississippi enacted a new law in 2017 that allowed for sports betting pending a favorable decision by the Supreme Court. In June 2018, the Mississippi Gaming Commission adopted implementing regulations that require all betting to take place in-person, with mobile wagering to be considered later.
5. West Virginia
On Aug. 30, 2018, West Virginia became the fifth state to offer legal and regulated sports betting when the Hollywood Casino -- a sportsbook owned by Penn National -- opened its doors. The move came six months after the West Virginia legislature passed a new bill with the West Virginia Lottery Commission serving as the chief regulator. Both in-person and online sports wagering are permitted under the law.
6. New Mexico
On Oct. 16, 2018, the Santa Ana Star Casino & Hotel booked its first sports bet in partnership with Nevada-based USBookmaking. Although New Mexico has not passed any new sports betting legislation since the Supreme Court's decision, the move by the Santa Ana Star Casino & Hotel was made via a gaming compact with the state. According to Nedra Darling, spokeswoman at the Department of the Interior's Office of Indian Affairs -- the federal agency in Washington, DC that oversees tribal gaming compacts -- the New Mexico compacts permit "any or all forms of Class III Gaming," a category in the federal regulations that specifically includes "[a]ny sports betting and pari-mutuel wagering." Published reports indicate that bets will not be permitted on games involving the University of New Mexico or New Mexico State University.
---
On-deck circle
7. Pennsylvania
In October 2017, Gov. Tom Wolf signed a new sports betting bill as part of a broad legislation push that included online poker and DFS. "My hope is that Pennsylvania will be positioned to offer sports betting sometime in 2018," said Rep. Rob Matzie, the author of the new law, after it was enacted. With the Supreme Court's decision in May 2018, the new law can now take effect and sports betting could begin as soon as state officials finalize regulations to oversee the rollout. In a June 15, 2018 letter to Pennsylvania officials, the NFL expressed concerns about consumer protections, data, enforcement and other hot-button issues.
8. Rhode Island
On June 22, 2018, Gov. Gina Raimondo signed the state budget, which included language allowing sports betting. Only two locations -- one in Lincoln and one in Tiverton -- would be allowed to offer sports betting. The state's lottery would oversee the process. Only bets placed in-person would be allowed at the two locations, as the new law does not provide for mobile betting.
9. New York
In 2013, New York passed a law to allow sports betting at four on-site locations. After lying dormant, the law could be revived. The New York State Gaming Commission is aiming to complete regulations "in the short term" for the four locations specified in the 2013 law. Legislation that would have allowed for full-scale sports betting in New York failed in June 2018, but could be re-introduced in 2019. New York's long-running issue with fantasy sports perked up in late 2018 too. On October 26, Acting Supreme Court Justice Gerald W. Connolly ruled that the state's two-year-old DFS law violated the state's constitution. "The judge's decision was unequivocal," said Cornelius D. Murray, the lead attorney representing the plaintiffs in the case, in a statement to ESPN. "The ruling found that New York's DFS law was unconstitutional beyond a reasonable doubt." In the wake of the ruling -- which will likely be appealed by the state Attorney General -- both DraftKings and FanDuel confirmed that they will continue offering fantasy contests in the state.
---
Moving toward legalization
10. Connecticut
After enacting a scaled-down anticipatory law in 2017, Connecticut saw a comprehensive sports betting bill introduced during the first part of 2018. The state held hearings and received testimony from a variety of stakeholders, including representatives from the NBA and MLB. The state legislative session closed without a formal vote on the comprehensive bill, but Gov. Dannel Malloy -- shortly after the Supreme Court issued its ruling -- suggested that he may call a special session of the Connecticut legislature to re-start discussions about legalizing sports betting.
11. Illinois
In January 2018, a Senate bill called the "Sports Betting Consumer Protection Act" was introduced. The draft bill could "authorize sports betting or electronic sports betting by an electronic sports betting patron or sports betting facility patron." Illinois saw several other sports betting bills introduced in 2018, too. Hearings were held about the various bills, but no formal vote has yet been taken.
12. Kentucky
On June 25, 2017, Sen. Julian M. Carroll introduced a marked-up 27-page bill that would empower Kentucky's racing commission to "institute a system of sports wagering." The bill would allow betting on pro and college sports, but not high school or other adolescent amateur sports. It includes a hefty tax rate -- 3 percent of handle -- and an initial licensing fee of $250,000. The bill also permits sports league representatives to serve on the racing commission.
13. Michigan
In 2017, legislation was introduced to amend the state's current gaming control law. Michigan's proposed bill would allow any holder of a casino license to "accept wagers on sporting events." The state's gaming board would be required to "promulgate rules to regulate the conduct of sports betting under this act." In 2018, the Michigan legislature adjourned without action on the sports betting bill.
14. Indiana
One version of a January 2018 bill introduced in Indiana would allocate a 1 percent "integrity fee" to specific sports leagues based on wagering handle. The bill also would require a 9.25 percent tax on sports betting-related revenue. Bill sponsor Alan Morrison -- a member of the Indiana House -- said the bill resulted after some input from the NBA and MLB. A different sports betting bill was introduced on the Senate side. The 2018 Indiana legislative session closed with no vote on either bill.
15. Massachusetts
In February 2018, the Massachusetts Gaming Commission released a comprehensive 31-page white paper to provide a "roadmap for those seeking to learn about the current landscape of the sports betting discussion in the country and its possibilities in Massachusetts." In January 2018, Senate bill 2273 was floated to study sports betting. Massachusetts was one of the first jurisdictions to address the legality of daily fantasy sports and could conceivably move quickly on the sports betting front too.
16. Maryland
Maryland House Bill No. 989 was introduced on Feb. 9, 2018 and calls for the establishment of a task force to "study the implementation of sports gaming in the state." The draft legislation includes the allocation of a "sports gaming license" and the ability to accept wagers on sporting events if the bettor is at least 21 years of age. The proposed Maryland legislation did not move forward in the 2018 legislative session.
17. Minnesota
In April 2018, a draft sports betting bill was circulated in the Minnesota legislature. Rep. Pat Garofalo was reportedly the strongest supporter of the bill, which would have authorized sports wagering and created an overseeing commission. The draft bill included a clause to enable mobile betting, too. The Minnesota legislature adjourned in May without any action on the bill.
18. Missouri
In January 2018, Rep. Bart Korman introduced a new bill that would have allowed already-licensed riverboat casinos and daily fantasy companies to expand their offerings to include traditional sports betting. Legislative hearings were held in Missouri prior to the Supreme Court's ruling, but the bill did not advance beyond the committee stage.
19. Kansas
A proposed law "relating to sports gambling" was introduced January 2018. The bill would have expanded the purview of the Kansas lottery to sports betting involving "one or more competitive games in which amateur or professional athletes participate, or are intended to participate, or on one or more performances of such athletes in such games." Kansas held sports betting hearings in the months before the Supreme Court issued its decision, but took no action afterward.
20. Iowa
A bill proposed in January 2018 would have allowed casinos and racetracks licensed in Iowa to offer sports betting on-site and possibly online. A February 2018 amendment to the proposed bill included language more favorable to certain sports leagues lobbying in the state. The 2018 Iowa legislative window closed without any vote.
21. Louisiana
A House bill was introduced in 2018 to authorize "additional games and sports betting at eligible live horse racing facilities." The new legislation, which was introduced in March 2018, was narrowly tailored and would only have allowed sports betting at the small number of land-based racinos already operating in the state. The Louisiana bill did not move forward during the state's legislative session.
22. Oklahoma
A bill was introduced to allow the Oklahoma governor to expand the tribal-state compact and include "sports pools." The expansion would have consisted of "wagering on the outcome of one or more competitive games in which athletes participate, or on one or more performances of such athletes in such games where all bets are placed in a common pool or pot from which all player winnings, prizes and direct costs are paid." The Oklahoma's legislative session ended with no action being taken on its bill.
23. South Carolina
Introduced in 2017, House Bill No. 3102 would have amended South Carolina's Constitution to allow "sports betting on professional sports." Any betting would have been "strictly" regulated and limited to "specified" areas. According to a court document from the now-resolved New York daily fantasy litigation involving DraftKings and FanDuel, South Carolina's current definition of gambling "includes betting money on the outcome of any 'game,' regardless of the skill involved in the game." The bill was not enacted prior to the close of the legislative session.
24. California
In July 2017, Assembly member Adam Gray introduced a constitutional amendment that would allow the state "to permit sports wagering only if a change in federal law occurs." The proposed amendment specifically referred to PASPA. "All other gaming activities in California are subject to regulations that ensure the safety of consumers," Gray said in a press release. "Sports wagering should be treated no differently." Within hours of the Supreme Court ruling, Gray reiterated his desire to further a pro-sports betting constitutional amendment. California also has a pending voter referendum that could legalize sports betting.
25. Oregon
Oregon already has a law on the books permitting some forms of sports betting, and the law could be expanded in the future if lawmakers are so inclined. For years, Oregon was one of the small number of states exempted under PASPA because it offered sports betting before Congress intervened. For example, the Oregon Lottery offered a football-themed pick 'em-style game for years before mothballing it about a decade ago.
26. Montana
Like Oregon, Montana already has a law on the books allowing certain types of sports betting in the state. The Montana Lottery currently offers a fantasy-type sports pool for football and auto racing. If Montana lawmakers sought to expand its permissible sports betting offerings, they would probably need to enact a new law or empower the Montana Lottery to release new regulations.
27. Ohio
On July 12, 2018, a group of five Ohio state senators formally introduced a bill to "express the intent of the General Assembly to develop and enact legislation legalizing sports wagering." The one-page bill lacks specifics, but is a placeholder of sorts for Ohio to consider full-scale legislation at a later date.
28. Washington, D.C.
On September 18, 2018, Councilmember Jack Evans formally introduced "The Sports Wagering Lottery Amendment Act of 2018." The purpose of the proposed legislation is to "legalize sports betting in the District of Columbia, while also creating strong regulatory structures that ensure consumer confidence." The bill would allow both online and in-person wagering, with the District Lottery in charge of regulatory oversight.
No legalization activity ... yet
29-50. Alabama, Alaska, Arizona, Arkansas, Colorado, Florida, Georgia, Hawaii, Idaho, Maine, Nebraska, New Hampshire, North Carolina, North Dakota, South Dakota, Tennessee, Texas, Vermont, Virginia, Washington state, Wisconsin and Wyoming
All states in this category have laws that prohibit full-blown sports betting. Such laws would need to be repealed or amended before full-scale sports wagering would be permitted. These states do not have any publicly announced bills devoted to sports betting legalization.
Unlikely
51. Utah
Utah's anti-gambling stance is written into the state's constitution. Any change to existing state policy toward gambling would be a massive departure from decades of opposition to any form of gambling, including lottery tickets, table games and sports betting.
http://www.espn.com/chalk/story/_/id/19740480/gambling-sports-betting-bill-tracker-all-50-states