Gaming Laboratories International (GLI®) Elevates Key Leaders to Drive World-Class Customer Experience
 
LAKEWOOD, N.J. (May 1, 2023) – Gaming Laboratories International (GLI®) is pleased to announce the strategic promotions of four exceptional leaders within the organization: Mackenzie Haugh, Chief Delivery Officer; James Boje, Managing Director, EMEA; Devon Dalbock, Chief Operating Officer, EMEA; and Martin Britton, Chairman, EMEA. These promotions reflect GLI's commitment to world-class delivery and outstanding customer service for all its nearly 2,000 clients globally.
 
"These are trusted, exceptional leaders within our organization; their contributions are vital to our ongoing efforts to drive global consistency, providing a world-class delivery and customer experience for each of our clients, no matter the size or volume of submissions," said GLI President & CEO James Maida. "We maintain this ongoing commitment to our customers by tirelessly enhancing testing strategies, processes and tools, training, and innovative solutions, and ensuring we have the highest caliber leadership driving the business forward. This commitment allows us to continue to advance and enhance our client and customer experience well into the future."
 
PHOTOS: Download high-res images here.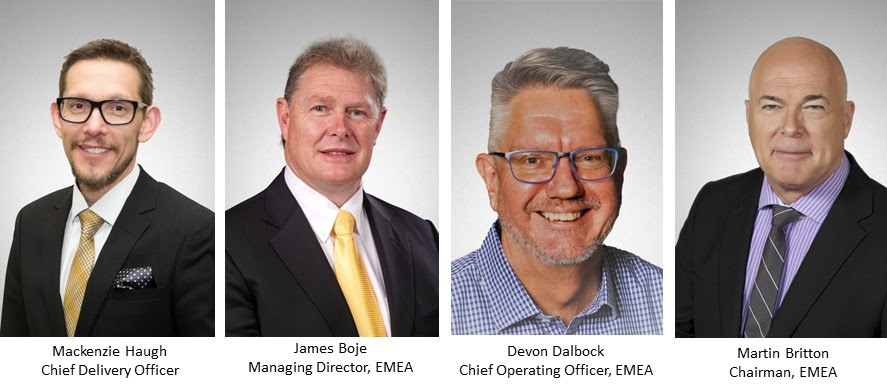 Mackenzie Haugh – Chief Delivery Officer
Mackenzie Haugh has been with GLI for more than 20 years and was previously Vice President of Engineering. Haugh has extensive hands-on experience in the regulatory compliance testing of games, platforms, systems, hardware, protocols and peripherals for land-based lottery, online, mobile, and sports betting products. He believes in customized service-delivery experiences for customers, and leads his teams with passion, skill, and innovation. In the January 2020 issue of Global Gaming Business, he was named one of its "25 people to watch."
 
James Boje – Managing Director, EMEA
James Boje has more than 35 years of experience in the gaming and hospitality industry, was previously GLI's Chief Operating Officer for the EMEA region, and has held key positions with IGT, CPI and Aristocrat. He came to GLI in 2021 and has been working with key stakeholders including commercial teams and key client accounts to ensure transparent and smooth support service across all geographies. He believes in driving excellent customer service through employee engagement and fostering collaboration with global partners internally to drive excellence.
 
Devon Dalbock – Chief Operating Officer, EMEA
Devon Dalbock has been with GLI since 2016 as General Manager, where he was responsible for GLI's African and Indian operations, working with regulators in various jurisdictions on current technical standards and new developments. He has over 35 years of senior executive and management experience, with the past 15 years in the gaming industry. He is also recognized as an award-winning speaker and spokesperson. He will serve as Chief Operating Officer to the EMEA region and is located in the Netherlands office.
 
Martin Britton – Chairman, EMEA
Martin Britton, former Managing Director of EMEA, will be moving to a new role as EMEA Chairman. He has been a cornerstone of the organization's growth in EMEA through his tireless work in new acquisitions, his work in preparing newly promoted team members for their new roles, and his sincere dedication to every office and employee throughout GLI's network of labs. He will continue to focus on GLI's global strategic direction and provide counsel and insight as EMEA continues to advance.
 
Discover a world of opportunity at gaminglabs.com/careers.
 
About Gaming Laboratories International
Gaming Laboratories International (GLI®) is committed to delivering the highest quality land-based, lottery, and iGaming testing and assessment services around the world. GLI provides suppliers, operators, and regulators with expert guidance for navigating the future of gaming and ensuring gaming innovations meet regulatory standards with confidence. Since 1989, GLI has certified nearly 2 million items and has tested equipment for more than 480 jurisdictions. GLI has a global network of laboratory locations across six continents, with U.S. and international accreditations for compliance with ISO/IEC standards for technical competence in the gaming, wagering, and lottery industries. GLI has been named "Best Laboratory" in the SAGSE Awards, "Best Test Lab in the Baltics," and "Best Test Lab in the Nordics" in the Baltic and Scandinavian Gaming Awards. For more information, visit gaminglabs.com.
# # # Contact:
Christie Eickelman, Vice President of Global Marketing
+1-702-914-2220, This email address is being protected from spambots. You need JavaScript enabled to view it.